Hemophilia Foundation of Michigan
The Hemophilia Foundation of Michigan has been bringing groups of people living with rare genetic bleeding disorders clear across the country to experience ETC for the last seven summers. The participants, made up of 20-25 people between the ages of 16-30, spend six days immersed in ETC kayaking and whitewater rafting adventures alongside the ETC community. 
Anthony Stevens, the Executive Director of the Hemophilia Foundation of Michigan, explains what makes his agency trek the 5,000 mile journey again and again from Ohio to the Bay Area and back again every summer.  
"What ETC provides in Northern California is absolutely magical for our participants," says Anthony. "This is a once in a lifetime experience for many of the people who we serve." 
One of the missions of Hemophilia Foundation of Michigan is to provide people living with bleeding disorders with experiences they may never be able to do or feel safe enough to try in their lifetime. Anthony shares: "Our clients typically have been sheltered most of their life and have been told what sports they can't play, starting in grade school, and all the things they are never allowed to do.  Our organization tries to show them that there are plenty of adventures they can go on in a safe environment." 
Each summer Anthony is astounded by the positive experience he and his organization have with ETC. Despite the fact that he brings people who have rare genetic bleeding disorders and need to be handled with special care, he always feels 100% safe in the hands of ETC. Anthony shares,  "I've never been in a situation where I've heard anyone say anything about being in danger, or having a safety issue. That's a huge concern for us."
Anthony also notices how the trips impact his participants:  "To watch people witness the river for the first time is a thing of beauty. To actually go down rapids is something that they may never have dreamed of doing."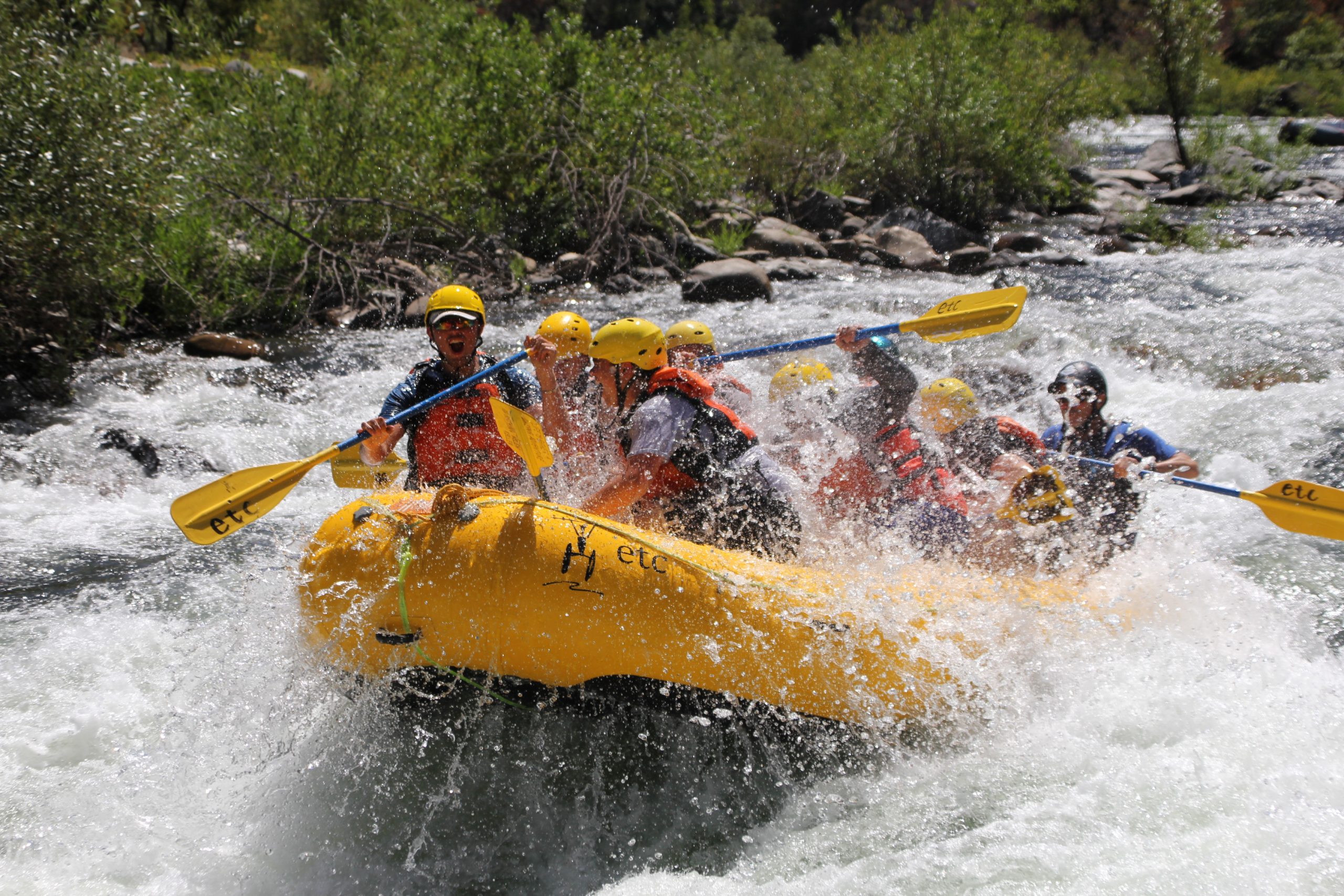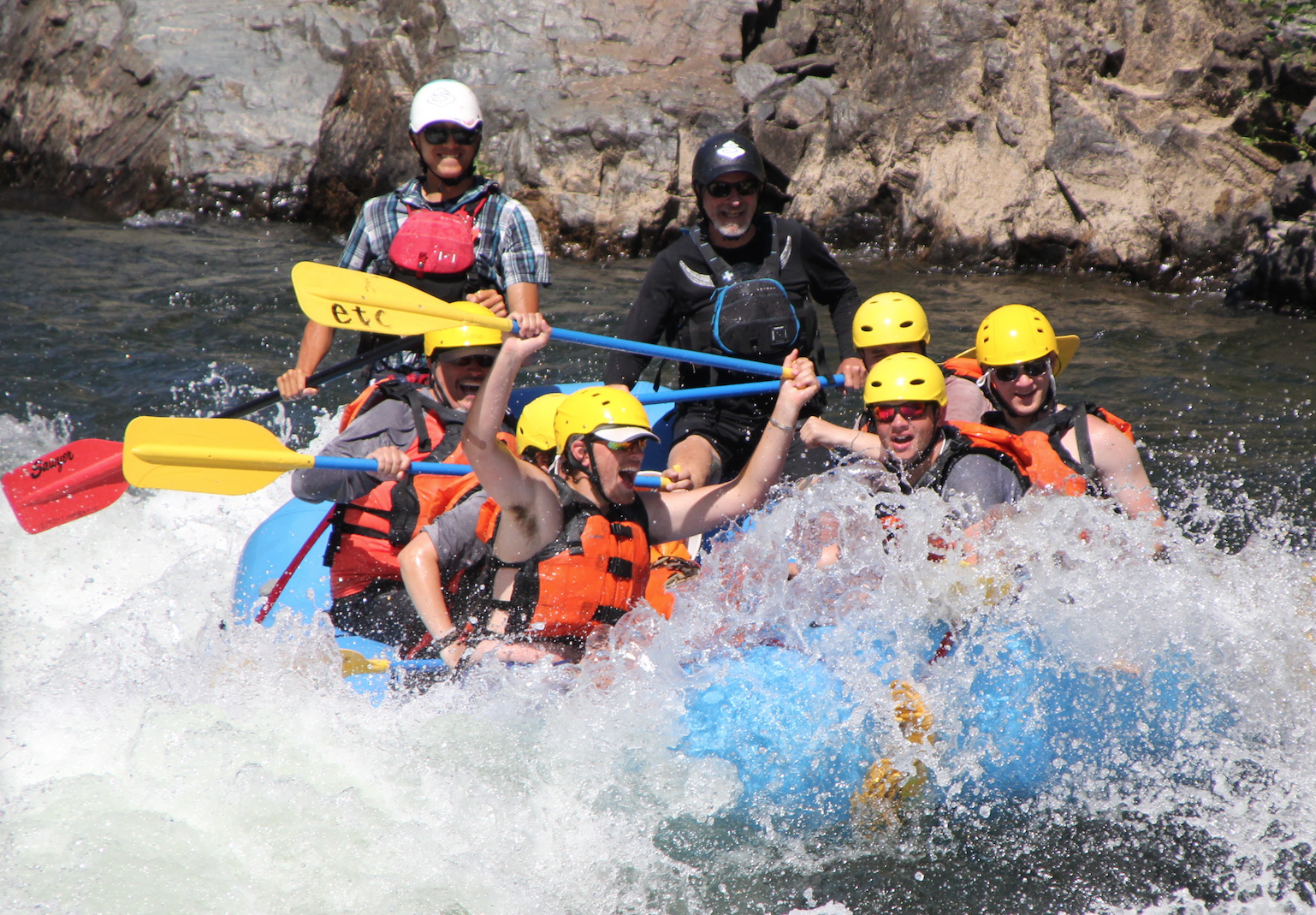 "On every trip several participants become absolutely entranced with ETC, and express a desire to return and get involved with ETC on a deeper level," Anthony shares.  Last summer in particular he recalls, "A 16-year old young man had never left the state of Ohio or been on an airplane before was absolutely moved by his experience rafting down the river. Before he arrived he was nervous about the trip. He was nervous about the plane, nervous about the kayaking and rafting. But all of those fears alleviated almost immediately once he began to experience the adventure of being on the water. After the trip, this young man had tears in his eyes explaining that it was the best experience of his life. That to me was breathtaking."
As long as ETC is around Anthony says his agency will always make the pilgrimage each summer for their six day adventure: "I can't imagine a better environment or better people to work with, and I can't imagine doing it with anyone else. The guides at ETC are the stars of the show. They are fantastic. We love ETC and are incredibly thankful to have the partnership."
YES! Nature to Neighborhoods
ETC is proud to partner for the past five years with Yes! Nature to Neighborhoods, an organization that provides youth, adults and families living in under-resourced Richmond, CA and surrounding West Contra Costa County access to experiences in the natural environment. 
Joanna Pulido, a staff member from YES! has participated in numerous trips with ETC, and has witnessed first-hand the impact of our programs on her participants. Joanna shared: "ETC's trips are super powerful for our youth. Kids who have never kayaked or camped in their entire lives are put into situations where they challenge themselves both physically and mentally, and they learn to rely on each other for support. At the end of the trip, they emerge more outgoing and confident and filled with pride– the pride from having gone through an adventure, learned something new and thrived!"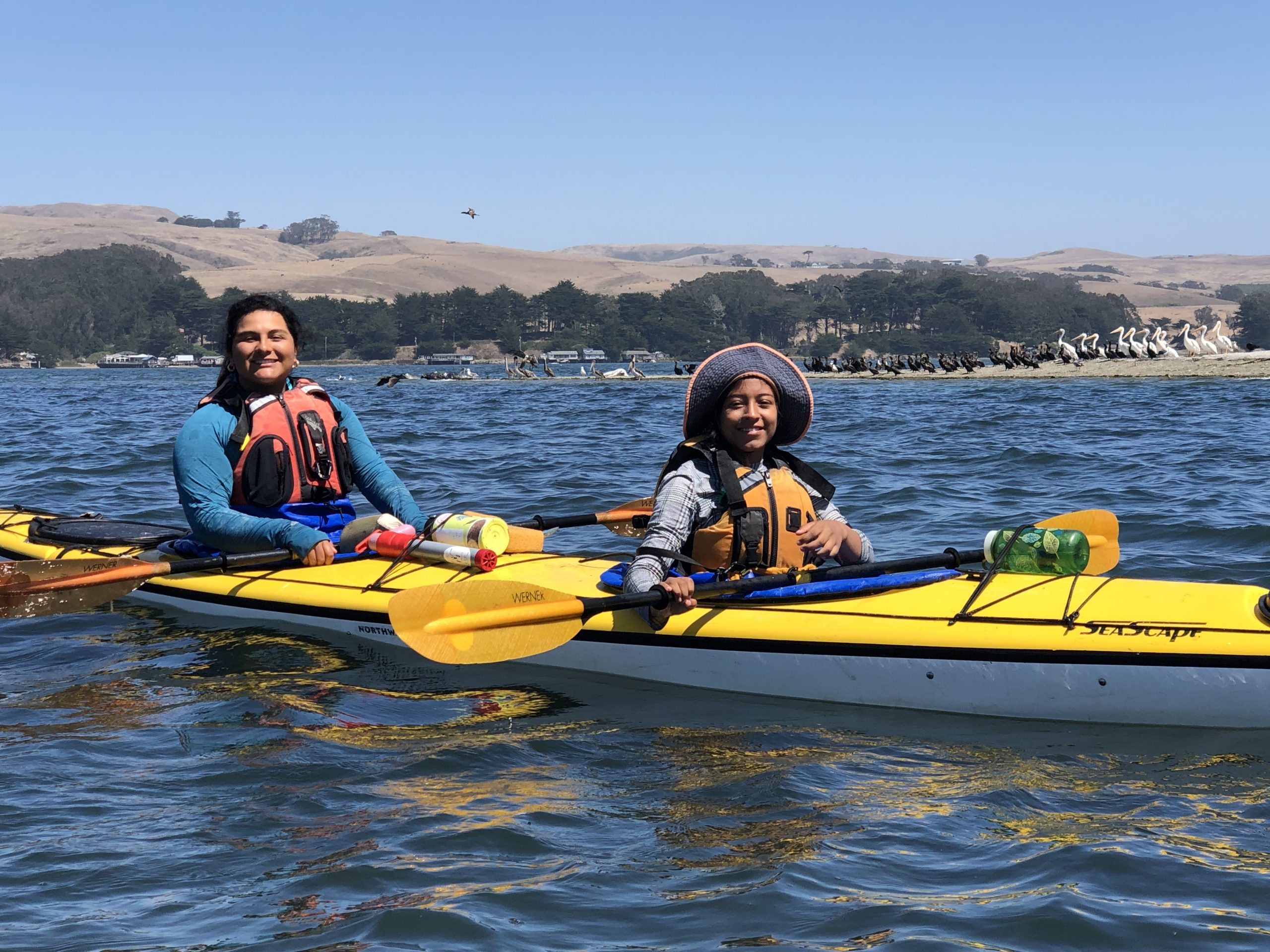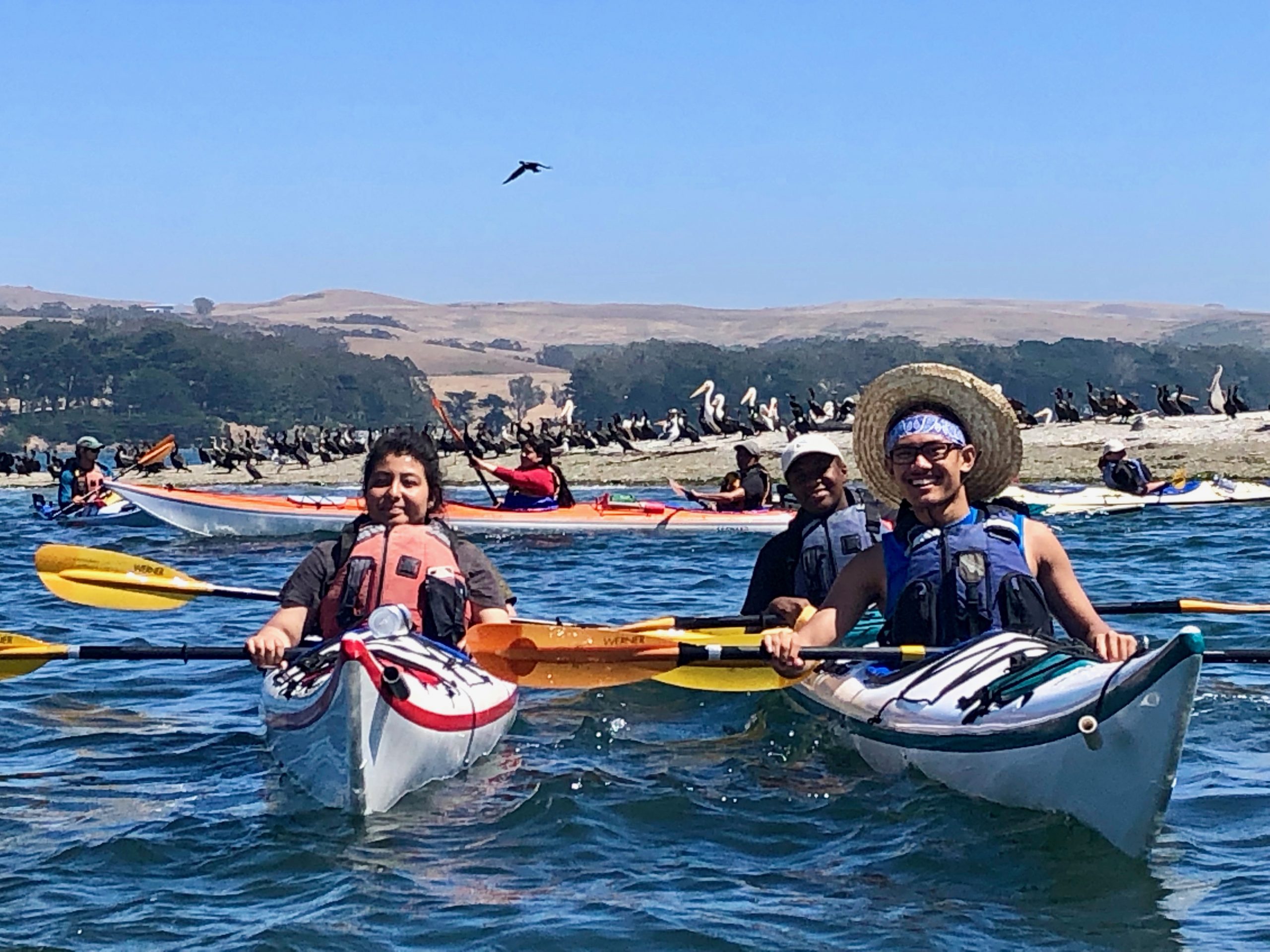 Pulido is particularly moved by how nature acts as a great catalyst to open up participants to shed some of their inhibitions and find a greater freedom.  "I watch these kids in nature feeling more safe to be themselves, more easily building friendships, and learning to open up and let go," she says. During a recent trip Joanna noticed that two of her students who struggle with anxiety making enormous positive strides. She shares, "They both expressed that they felt so calm and so relaxed in the water, and one of the girls said she actually forgot all about her anxiety. I just thought that was incredible and it just made me realize just how powerful it is to be in nature, and how it can really help with mental health issues as well as physical. It's super powerful."
The same sentiment is expressed by Aswun James, a Youth Leader for both ETC and YES – Nature to Neighborhoods, who came up through both programs and has a chance to put his skills into action, inspiring other youth from Richmond to see their potential and their true nature. He shares, "Nature teaches you about who you are. As teenagers, we get caught up in what other people think of us. Nature accepts you for who you are, with no judgement."
WATCH this brief video to see Aswan and his fellow ETC Adventurers in action!
Candy Rivera
On an ETC sea kayak adventure with the Vista Center for the Blind, Candelaria "Candy" Rivera paddled her first double sea kayak to Angel Island for an overnight adventure. On that trip she was surprised to learn from a visually impaired ETC volunteer that she too could become a guide. Today, she is a full-fledged sea kayak guide, and was awarded the distinction of "Volunteer of the Year" for her commitment and impact on ETC.
In her first season as a guide, Candy, who has suffered vision loss due to retinitis pigmentosa, volunteered 24 days, which is three-times the commitment we ask of first year guides, and has become a master of paddling and piloting an 80-pound triple-seat kayak. All she requires is a boat-mate with vision and a voice that can communicate course directions such as, "Add a little right rudder," "Straighten out" or "Stay at 2 o'clock."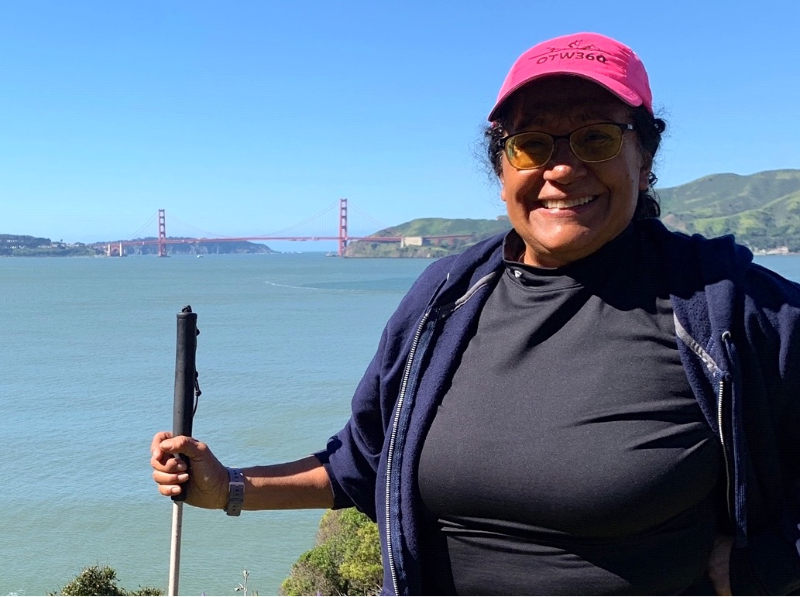 While her boat wrangling is impressive, it is clear that this is just a drop in Candy's proverbial skills bucket. "What astounded our selection team was that for each volunteer day, Candy also navigates a 5-leg, 6-plus hour round-trip commute from San Jose to Sausalito, requiring transfers between multiple buses and trains, followed by a 1/4 mile walk—all before clocking in at 8 am!, shared the Sea kayak Program Manager. Candy credits her fellow volunteers as being instrumental in filling a void after a series of difficult times, including enduring vision loss 11 years ago leaving her with no peripheral vision and only 1% central vision in her right eye, the death of her father, and recently retiring her seeing-eye dog of nine years – "Aretha, the Queen of My Soul" – who was both her companion and navigator.
Candy's strength and humor are appreciated by ETC's volunteers and participants alike. As she hefts 60 to 80 pound kayaks onto wheels and hauls them across the sand for a paddle talk, she's often heard calling out, "Watch out! Watch out! Blind lady coming through!"
"Candy is a remarkable human being and deserves recognition for everything she has done for ETC," said Diane Poslosky, ETC's Executive Director. "She clearly exemplifies our mission and goal of taking the "dis" out of disability and disadvantaged to encourage participants' dreams."
Candy's son, Jon Jelinski, also became an ETC Cross-Country Ski Guide. If you don't happen to run into them on the slopes or the Bay, perhaps you'll meet them if you decide to join ETC's cadre of Volunteers.
Anthony Ng
Anthony Ng grew up in San Francisco in an area where gang activity meant that wearing the wrong color could get him killed. And being at home had risks. After cycling through a few foster homes, and with his parents working all the time, he spent more and more time on the streets. By the time Anthony got to high school, success was defined as staying alive and out of jail. That's when he discovered Environmental Traveling Companions (ETC).
At age 16, after being referred to ETC by partner and mentorship program Summer Search, Anthony embarked on ETC's 24-day Youth Lead Program. It was a life-changing experience.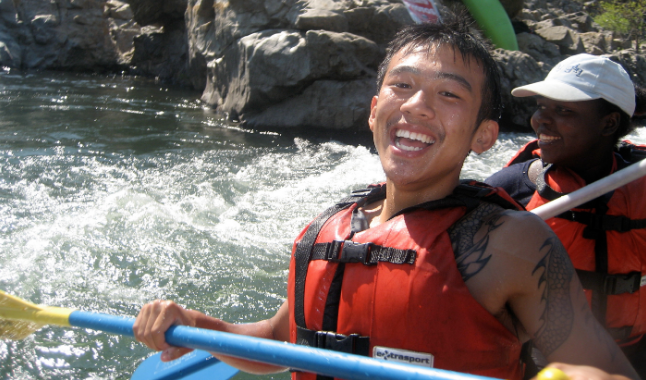 Anthony spent the first week white-water rafting on the American River. The second involved sea kayaking on San Francisco Bay and working and camping on an organic farm, something he needed to wrap his mind around. "Who wants to wake up at 5 am to shovel manure and pick vegetables?" he wondered. By the third week, backpacking on California's Lost Coast, something inside Anthony started to shift. With plenty of time for introspection, he began to write poetry. "For the first time, I found a better way to express my feelings —a way that wouldn't get me in trouble for what was going on inside."
But when the trip ended, Anthony returned to the city and fell back into old patterns. That's when ETC Executive Director Diane Poslosky stepped in to mentor him, inviting him to participate in a competitive Kayak Regatta around Angel Island. Ten miles long, the race wasn't easy, but Anthony and Diane took first place. They would compete the following year and win again.
One evening when Diane and Anthony were kayaking to practice for the race, he spoke with her about wanting to join the Marines. "I want you to do this if you really want to," she told him, "But there are other options."
Diane reached out to Mike Sabarese, an ETC champion and early funder. Mike understood from personal experience the profound impact of the outdoors combined with the support of mentorship. "When you get to a space that's open, you look back at the box you were in and you say, I don't want to go back into that environment," Sabarese says.
Diane and Mike kayaked with Anthony and talked about options. Eventually, they all saw a way forward. Anthony would attend the California State Maritime Academy and Mike would provide financial support. His funding was conditional. Anthony had to keep his grades in the A or B range and write to them regularly about how it was going.
Anthony found the coursework extremely challenging. Mike and Diane's support helped. It also helped that he'd had the ETC Youth Lead experience, struggling forward through 10-mile days with a giant backpack. "During those long hikes," says Anthony, "I learned that if you just grind and stick at it, the reward at the end—like the view at the beach on the Lost Coast—is well worth all the work you put in."
Because he persevered, Anthony now works as an engineer on an offshore drilling ship, ensuring the safe operation of a 44-megawatt power plant, managing a team of five others. For the past 14 years, he's worked around the world on ocean going vessels. During that time he also bought his own home and refurbished his childhood home, helping to take care of his parents as they got older and experienced health challenges.
Anthony is now also an ETC donor. He routinely recharges in nature, managing his health and wellbeing with exercise. He's not afraid of taking risks and trying new things such as changing jobs. During his time off, he enjoys traveling.
Recently he hired a guide in Costa Rica and went cliff jumping. "For the past two years, with my work schedule, I've been traveling to a different country every month, whereas before I'd never left San Francisco," says Anthony. "ETC created that path." Or, more accurately, Anthony created the path after ETC showed him it existed.
Beth Smith
The following is excerpted from Beth's Smith's speech at the ETC annual Make a Ripple Gala:
Hello. My name is Beth Smith and I have stories I want to tell you. First, I want to say thank you. Thank you to ETC's staff, board and volunteer guides and all of you who are here for what you have given to make ETC adventures possible. In truth, I would much rather sit with you under the stars somewhere and hear your stories too. For now, I will try to convey what ETC has meant to me, although words are not sufficient.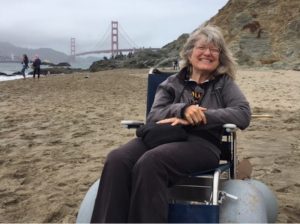 I've had cerebral palsy since birth. I walk with crutches a bit now, and mostly use a wheelchair. I grew up in Nashville. You will probably hear the South in my mouth as they say. I miss things about Tennessee, including people who talk like me. In 1989 I decided to look for a job long-distance and moved here because I wanted a bigger, easier life. Professionally, I'm a licensed clinical social worker. Having sources of natural beauty and hope are a professional requirement. When I was a child, I literally thought it was my job to understand that there were certain things I would not be able to do and to actually be cheerful about that. I learned to swim when I was about four, which shifted things a lot. I felt like I could fly and my brain didn't care how and where I was doing it.
I remember watching my friends and wanting to be a Girl Scout. I was told I'd better not because I would be too much trouble for the troop leaders. When I was six I started going to the  "Easter Seal Camp for Crippled Children" for 10 days every summer. That name was horrible, and the segregation was pretty bad. There were some kids who went home in a van, the side of which read The Home for the Incurables. That probably did a number on my identity at the time. We did have fun at camp though. We canoed and swam and camped and fell in love. Somewhere in there I started to get a glimpse that maybe there is an athlete and an adventurer inside me who was trying to find a way to get out and express herself.
One of the things I love about having a disability is – when you've waited a long time, decades, thinking that you are not going to be able to do something and then you get to do it, well, I just can't describe the greatness of that feeling.
At ETC, our adventures always go way beyond what I can imagine. It's not about whether or not I can do things, but how. Thanks to ETC, I've snorkeled with sea lions in Baja, I've paddled in Mendocino sea caves, kayaked and camped in the Channel Island, snow skied and, rafted whitewater. Yes, I need some extra help to squeeze the most joy out of an adventure. That can be embarrassing since I'm mostly independent at home. It's also embarrassing to get so happy on an ETC trip! I wouldn't trade the help or the bliss. ETC volunteer guides are well trained in offering and giving help in a way that promotes dignity in the helpers and the recipients. And they love to have FUN!
I'm also a tandem cyclist, scuba diver and not too long ago was a rugby player.  See…. I actually can make up for lost time!
When I'm in the ocean, I get in touch with that indestructible part of me who can dance. When I'm out in nature deep enough and long enough I feel in my bones, that this world with all its troubles, is at its core, a very good place. It's like I can feel God or the universe or whatever you want to call it, saying to me "I told you I love you. And I'll keep telling you. Who you are is just fine, cause look at what you're part of." Know the feeling?
Now, when I have to shop for wheelchair parts or unattractive orthopedic accessories, I take myself shopping for outdoor gear on the way home. I really did want to wear the Girl Scout uniform, little hat and badges and all.  I guess it's never too late to bring out your inner gear head, after all."
In closing I'd like to read an excerpt from a poem I wrote long ago, that was inspired by an ETC trip.
Opportunities – A Poem
Would you pass up a chance to put your head under a waterfall?
To slide your belly along the bottom of the ocean and hear what the fish and the turtles and the expanse have to tell you?
To hold a puppy in your arms and let it lick your nose?
Would you pass up the chance to dip your paddle into the ocean?
See the sunset paint the laughing waves and somehow inhale a secret or two the sea has to give?
Would you pass up an opportunity to meditate on a tree and promise to never leave yourself as the tree is faithful to the ground?
Can you offer yourself loving kindness in the way that raindrops feed leaves?
Would you give up a chance to listen to pivotal stories from people in different skin from yours?
To be fully in the presence of their power, their rage and their hope without trying to change it a bit?
To stand outside yourself for a time and feel humble gratitude for being allowed to know the world in a way you never have before?
Would you be willing to risk making a mistake in order to discover what happens next?
To feel the stretch and wonder of learning.
Make sure your laps have room and your shoulders are light
Lean a basket against the sky
Opportunities are eager to lovingly land where you live
Do what scares you.
Set your curiosity free.
Never leave your own side.
That is how opportunities are born.