Angel Island Overnight Adventures
Trip Overview
With world class vistas of the Golden Gate Bridge and the city, San Francisco Bay is a remarkable paddling location. Spending one or more nights at the Angel Island State Park in historic buildings from the Civil War era is a one-of-a-kind experience.
Your group will first learn the basics of sea kayaking and safety and then will paddle three miles across Richardson Bay, landing at Camp Reynolds on Angel Island State Park to spend the day(s) and evening(s) exploring this jewel of San Francisco Bay! This adventure is awesome for all paddlers, from novice to advanced, and for people of varying abilities and backgrounds.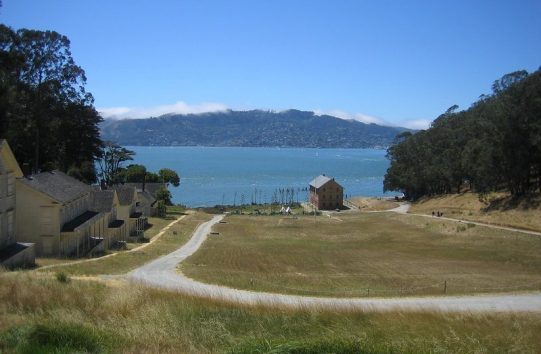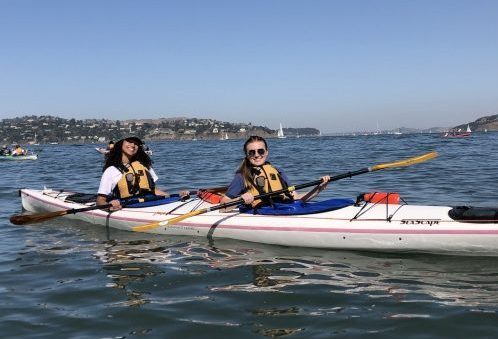 Arrive at Schoonmaker Marina in Sausalito
Your trip begins with a group opening circle, giving the guides an opportunity to meet your group and orient them to the plan for the trip.
Gear and Paddling Instruction
Next, ETC's guides will give your group instructions on paddling, safety, and how to pack all our overnight gear and food into the kayaks. If there are participants with special needs, guides will work with them to adapt their kayak and paddling gear for comfort and ease.
The Adventure Begins
With the kayaks packed and participants ready to paddle, we will begin our 1.5 to 2 hour journey from the beach onto the Bay. Kayaking across Richardson Bay and Raccoon Strait with gorgeous views of the Golden Gate Bridge and the San Francisco skyline, we will land at Camp Reynolds on Angel Island State Park to eat a well deserved picnic lunch.
Angel Island Exploration
After lunch and securing the kayaks we will move into our quarters and have the afternoon to explore the island with its unparalleled vistas and fascinating human and natural history. ETC guides and participants will prepare and enjoy a community family-style dinner. After dessert we often put on a warm layer and head out for a night hike to a vista point or to the summit of Mount Livermore, with its spectacular views of the entire bay. What a gift!
Day Two and The Return
The second day we'll wake up early to have a delicious breakfast, pack up our belongings, and then tidy up our accommodations to leave them in good order for the next group to enjoy. Then, it's time to pack our gear in the kayaks for a beautiful morning paddle and return to Sausalito. We'll have lunch on the beach at Schoonmaker Marina, and then together as a team, (if ability and timing allows) we'll put the kayaks and equipment away before finishing our trip with a closing circle to share highlight moments.
Trip Details
Trip Cost:
Please contact the Sea Kayak Program Manager at 415-474-7662 ext. 13 or Kayak@etctrips.org to discuss pricing for your school or agency.
Scholarships:
At ETC, we believe that everyone, regardless of financial limitations, should be able to experience the beauty of nature and the challenge of outdoor adventure. We have a limited scholarship budget should a group not be able to afford the above prices. To apply for a scholarship, please complete a Scholarship Application.
Accessibility:
ETC is committed to making outdoor adventures accessible to people with special needs, and our guides are experienced in making adaptations for a wide range of physical and cognitive abilities. If you have questions about accessibility, please contact the Sea Kayak Program Manager.
Scheduling and Other Resources
ETC offers Sea Kayak trips year round, with the majority of trips occurring between April and mid November. Please contact the Sea Kayak Program Manager at 415-474-7662 ext. 13 or kayak@etctrips.org to discuss available dates.
Resources for Groups: