A Spotlight on Liliana Beleche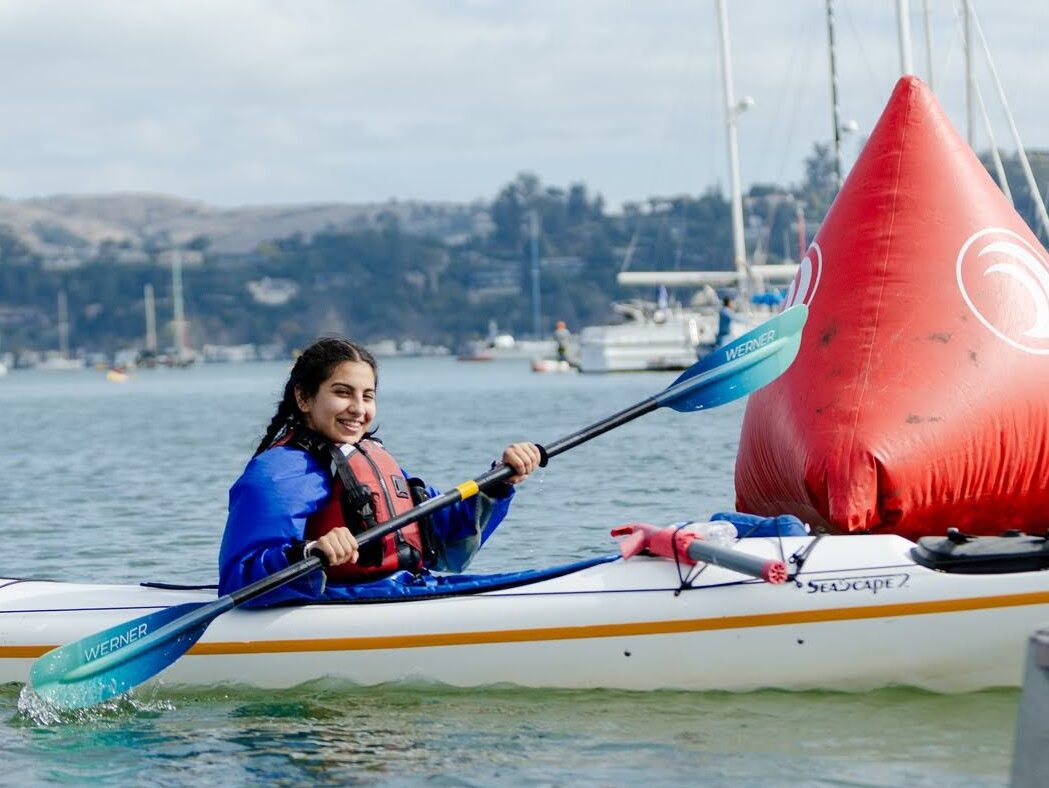 Liliana 'Lili' Beleche loves the ETC Youth LEAD Program (YLP) because she's found a supportive community beyond her home in Hayward. She has always lived in the East Bay, and for the past two years, she's excelled in various programs in the ETC Youth LEAD Program (YLP): "It's an awesome community. Even though we're all spread out across the Bay, we always find ways to stay connected." She's also developed her own leadership style and now that she's a senior in high school, she can look back fondly on the ways ETC has challenged her to grow.
In 2022, Lili completed her first course with YLP, the 21-day Young Women's Course. "At first I didn't know what to expect, I knew it was going to be challenging physically, mentally, and emotionally. But, I was really looking forward to it. It seemed like an experience that could open up new doors for me." 
And it did. Before the course in which students backpack, sea kayak, raft and camp for three weeks straight, Lili had limited experiences in the outdoors. "I had never done anything in the environment, the closest things I had done was go on walks or go to the beach." Sure enough, the trip ignited an interest in camping and learning about the outdoors, and she was inspired to apply for the YLP Fellowship during her Junior year.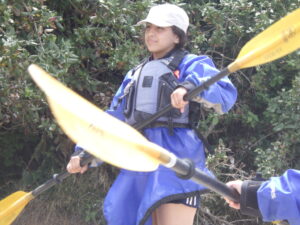 Lili learning to paddle a sea kayak during her 21-day Young Women's Course in 2022
Following the completion of her Young Women's Course, Liliana joined a cohort of selected graduates of summer courses for ETC' s year-long Youth LEAD Fellowship. The Fellowship gives students the opportunity to further develop their leadership skills through camping, weekly meetings, workshops, activities, and training as Assistant Sea Kayak Guides.
One informational workshop, a visit to Slide Ranch Farm in Muir Beach, informed new dreams for Lili's academic future. "Something about that farm – learning about food production and being around the animals – made me want to study environmental science. Prior to that, I always said I wanted to study psychology, but that was just because I wanted to have something to tell people. But now, I feel like environmental science is something I actually can't wait to learn more about.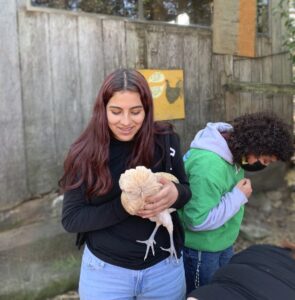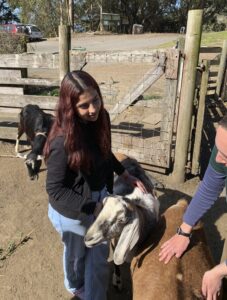 Liliana at Slide Ranch in 2023
This past summer, Lili worked as the Youth Field Intern, assisting YLP Instructors on trips similar to the one she completed the previous summer. "That was a really eye-opening experience. I got to see a lot of the logistics, the problem-solving and so many things that come with being an instructor that I didn't see as a student the year before". The leadership teams like the one she worked with continue to inspire her. "All of the YLP instructors seem so happy doing what they do, and they all inspire me in different ways. I hope to one day be a motivational role model like them."
This fall, Liliana has started her senior year of high school and she's on the lookout for local classes that nourish her interest in environmental science. She's also returned to YLP as a Senior Fellow, and she's noticed changes in the way she's approaching the fellowship. "I feel like I'm a better active listener and I've gotten a lot better about asking questions about things I'm curious about," she says. These characteristics – attentiveness, curiosity, and confidence – have helped her be a leader among the younger fellows. "I just talk with them and ask them how they're doing so they feel supported, I feel like in that way, I'm being a good leader."
One day, Lili wants to use her skills to lead a course as a YLP Instructor. "I want to inspire young people to want to be conscious about how they interact with Earth and teach them about the influence they have over the planet. I want to inspire them to be better versions of themselves and to try new things."
"There's different ways to be a leader and ETC has made me realize what kind of leader I am. I don't have to be a demanding leader who's always telling others what to do – I can be a leader in my own kind of way."