Celebrating Kristy Moulton, 2022 Volunteer of the Year!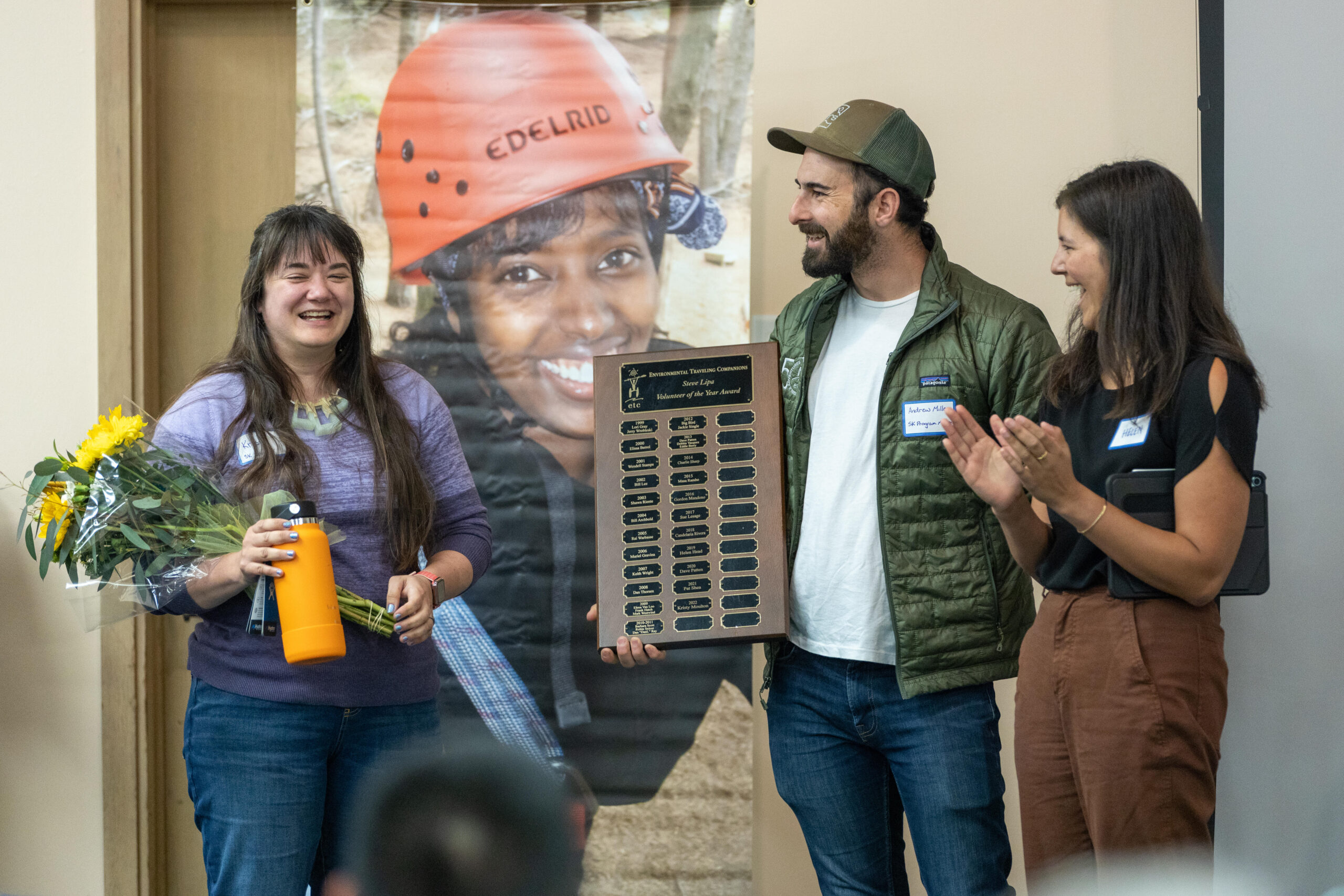 When Kristy Moulton was first introduced to ETC, she was not immediately in love with kayaking. She was new to the sport, and her enjoyment and passion grew steadily with time. While some new volunteers bring a lifelong adoration of kayaking that makes getting on the water a no-brainer, Kristy was drawn to volunteer primarily out of a desire to work with ETC participants, in whatever way that might be. Thus, her kayaking journey was one of persistence. It's maybe no big secret then why her impact has meant so much to this community. Nontraditional beginnings often make for one-of-a-kind leaders.
In the words of Pat Shea, ETC's 2021 Volunteer of the Year, "This progression for Kristy gives her compassion and patience as she supports others, whether teaching a new guide or encouraging a participant." Although Kristy now brings her undeniable love of paddling to every minute she spends on the water (and she now spends many, many minutes on the water in her distinctive orange kayak), her perspective is unique. It gives her authentic empathy, helping her relate to other first-time paddlers, understanding their frustrations when they just can't seem to get their boat to turn, their pedals are crooked, or the sand in their shoes is wearing their nerves thin. And for this and so many other reasons, anyone who has spent time around Kristy would agree she is an extraordinary asset to ETC, an exceptional leader, and a rare human being.
Kristy joined ETC in 2017, and from the very beginning, she established herself as a community builder. She participated in every activity available to her and did her best to make things fun for all. In tandem with Helen Head (ETC's 2019 Volunteer of the Year—they run in packs!), Kristy initiated a weekly Wednesday evening paddle for guides, contributing to both team bonding and an opportunity to build skills. While this is a textbook example of Kristy's penchant for quiet leadership, the "Big Fun" she sought to bring each week was anything but quiet.
From there, no part of the Sea Kayak program has gone untouched by Kristy. As a trip leader, she brings her first-rate organizational skills to every endeavor. She's completed more than 80 lifetime trips, the fifth most among active guides. She achieved 13 guide days in 2022, including a Youth LEAD Program Course and two trips with Team River Runner, to name but a few. Trips with Kristy are not simply well-run, but each is a lesson in creating a well-conceived plan and then seamlessly executing it with heart and an appearance of ease.
In addition, Kristy leads our annual guide training in a master-class way, teaching countless new volunteers how to plan and execute trips under any conditions. She also supports both Trainees and Trainers equally, never ceasing to provide aid and successfully turn everything into a teachable moment. Her systems—cards, tape, charts, record keeping—are mimicked repeatedly, now so engrained in "best practices" that it is truly lost how much has come from her.
Kristy also supports the Sea Kayak program behind the scenes, always thinking about the program, the people, and how to contribute, even when she's not on the water. Although the exact numbers are unknown, it would be surprising to hear that anyone has recruited more guides to ETC than Kristy, as she always keeps an eye out for individuals who might be good guide candidates, looking for ways to engage with them throughout the year. In so many ways, Kristy is truly an inspiring component of what makes ETC what it is today. All unsung heroes deserve to have their praises sung, perhaps Kristy's the loudest.
Outside of ETC, Kristy is an Occupational Therapist, bringing those same meticulous observations to on-water strokes and movements. Her recommendations on how to move differently or try something else to achieve a new goal are often "Aha!" moments for guides and participants alike, a sign of an exceptional educator. Kristy has also completed her L3 assessment through the ACA and teaches roll classes on a weekly basis through California Watersport Collective, part of her method of constant improvement. And when you see her on the water in that bright orange boat, it's hard not to get the sense that she has finally and definitively discovered her love of kayaking, to the benefit of all of us at ETC.
Several members of the ETC community share memories of paddling with Kristy!
Angie Green, ETC Trip Leader
"These two pictures are from the day we started what has become the California Watersport Collective roll program and our two-year anniversary, the day I finally got an independent roll with Kristy as my teacher. I get to call this amazing person my friend. Together, we are students. To me, she is a mentor and a teacher! While there is far too much to unpack, I can tell you that I'm better off knowing this human. I'm challenged to stretch my limits, and we will always find ways to play together."
Pat Shea, ETC Trip Leader and 2021 Volunteer of the Year
"This photo is from a Youth LEAD trip in Tomales Bay. To me, it captures so much of who Kristy is and what she brings to ETC. The Youth LEAD group was standing on the shore, questioning what they saw bobbing on the Bay. It was in an odd pattern, floating and moving in the water. There was lots of conjecture and curiosity. So, Kristy hops in her boat and wrangles the biggest Bull Kelp I've ever seen across her bow, then paddles back in, somewhat drenched from the wrangling but victorious. The participants were delighted and curious—and then creative. After measuring it and discussing it, they turned it into a long jump rope with everyone participating, solo and in partners. It was a highlight for everyone thanks to Kristy seeing an opportunity and acting on it."
Andrew Miller, ETC's Sea Kayak Program Manager
"Kristy has been so unbelievably helpful to me personally, welcoming me to the program, having a really clear sense of what needed to get done, offering suggestions in a very helpful but assertive way, and often taking on the initiative to solve problems by herself.
She has also coached so many of our guides, myself included, to our first kayak rolls through her classes at Cali Collective, and when she's teaching you can really get a sense for both her skill as a paddler as well as her patience and care for her students. It's awesome to see her continue to challenge herself and we are so appreciative that she brings all of that back to share with us at ETC. And she brings that same level of care to all of her trips. I know that all of her participants, especially from YLP and the Shupin Social Club—they talk about her a lot—really appreciate her leadership."
By Daniel Kuzjak and Pat Shea, with contributions from Angie Green, Andrew Miller, and Diane Poslosky.