Reflections on the 40th Regatta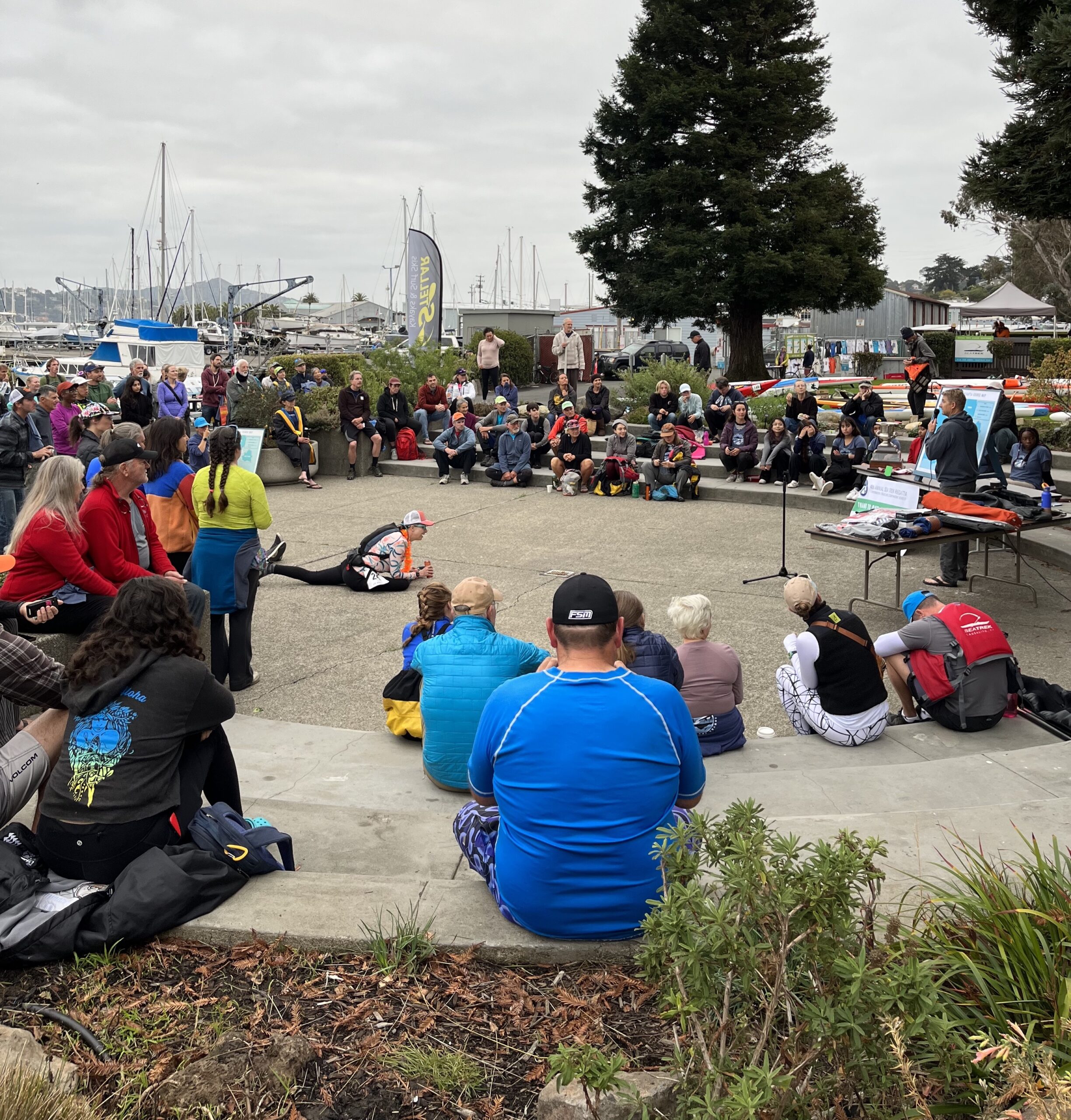 On Sunday October 16th, ETC community members and paddling aficionados from around the world gathered in Sausalito for the 40th Annual Sea Trek Regatta and ETC Benefit Paddle. The Regatta is an annual fun- and fundraiser, providing paddlers with a chance to connect with the community and test their skills in a friendly competition. Proceeds from the event support ETC's Scholarship Fund. Sea Kayak Intern Daniel Kuzjak shares his recollection of the day:
Even as darkness had not yet lifted its hold on Sausalito, volunteers and event organizers began to gather in preparation. Old friends hugged in registration lines, chatting over warm, wispy coffee mugs as they eyed the dark green, pre-dawn bay. New participants were welcomed, gazing upon 40 years of Regatta T-shirts hung nearby, listening to others describe memories in fits of laughter.
At 8AM, all stopped prepping kayaks, surfskis, and paddleboards alike to huddle outside of the Bay Model, paying close attention to the tides and currents forecast for the day. Then Diane Poslosky, ETC's Executive Director, introduced two very special participants—Kelly Klain, a longtime friend of ETC and Inclusion Training Presenter, and Princess Awambu, one of ETC's newest Youth LEAD Fellows. Kelly's recollections of past ETC trips and personal takeaways left not a dry eye in the house. Princess, too, spoke with the poise and grace of someone twice her age in describing the impact of ETC's Youth LEAD Program, which provides outdoor experiences for youth from diverse cultural and economic backgrounds. Princess was stopped on more than one occasion by bursts of laughter, leaving all to agree that a future in comedy is undoubtedly available to her if so desired. With applause spreading through Sausalito, the meeting concluded, and all headed out for the start line.
The Regatta is structured to be accessible to paddlers of all abilities. The 3.45-mile course across Richardson Bay to Belvedere Point and back is perfect for recreational paddlers. Various crafts stack this field: sea kayaks (singles, doubles, and triples) surfskis, sit-on-top kayaks, SUPs of varying lengths, and outriggers, among others. For intermediate to advanced paddlers, a 9.5-mile loop around Angel Island marks another course, a popular challenge for many looking to test their skills on a nervous dash across Racoon Strait–twice! Finally, for those elite paddlers seeking a demanding and rewarding adventure, a long, 13-mile course heads south to the Golden Gate Bridge, fights an ebbing current–if unlucky–back up around Angel Island, and then returns to the finish line. Each race carries its own challenges to navigate, yet the diversity of courses is a unique attribute of the Regatta, providing an opportunity for people of all ages, crafts, and abilities to head out on the water in the pursuit of their personal goals. Or perhaps instead to claim revenge on old rivals–but to each their own.
The excited energy was palpable in the air. At brief moments, it tinged with nervousness. Nervousness in the way that makes you feel alive: the thrill of a race, a competition, a chance to test yourself. The bay was calm and quiet, almost as if it, too, waited for the starting blast of the whistle. A fog hung dense overhead.
For some, the track was well-known, having paddled each course numerous times. Experienced fingers held a loose grip upon their paddles, itching to begin again, feeling that today, perhaps, given the calm weather, was the day for a personal best. For others, this was a first. What would it be like out there? What should I expect? Perhaps I can even win this thing (a thought shared likely by more than a few).
At 10:14 AM, a sharp blast rang out through the air, seemingly to signal the race was starting––and a minute early, at that. But wait! It was instead the Matthew Turner, Call of the Sea's educational tall ship, announcing its departure, its sizeable wooden deck swaying as it detached from the pier. Paddles, which had begun to dig hard for the San Francisco skyline, suddenly lifted from the water. Yet the false alarm was brief, for when the clock struck 10:15, right on schedule, a whistle erupted across the water, and the race was on–for real this time.
Some 90 participants sped off along the short course, shouts of joy and more than one "We can catch them!" rising from the water as racers dug hard, rounded the buoy, and sprinted back toward the finish. 115 participants rounded Angel Island, two of whom swam the course prone from a paddleboard. Kudos to Soren Baker, in the Under-18 category, and his dad, Aaron Baker, on this adventurous noodle-arm undertaking! Finally, a smaller field of 17 crafts competed in the Golden Gate course, and though their boats were lesser in number, their smiles beamed bright enough to make up for it, each participant full of endorphins as they crossed the finish line hours after the blast of the whistle–even from a few intrepid SUPers.
As the courses were accomplished and boats were pulled sluggishly back to land, new stories replaced the old. A post-race celebration broke out wherever friends found each other–in sprints across the finish line, at the pier, at Schoonmaker Beach, in the line for post-race gyros–all feeling the full impact and extent of the Bay Area paddling community. Whether a first-time Regatta participant or a seasoned veteran, experiences on the water were shared freely, each describing what the day meant for them, how it felt, looked, and sounded, and much, much more.
Awards were handed out in each of the various categories, with more than a couple nationally competitive paddlers taking the podium. On the Richardson Bay course, Jackie Klinck and Mike Mccoy recorded the fastest female and male times, respectively, from surfski singles. On the Angel Island course, Amy Byers and Albert Szilvasy led in surfski singles, while a mixed double surfski paddled by Cyril Derreumaux (fresh off a 91-day solo kayak expedition from California to Hawaii) and Sea Trek's Jules Gismondi recorded the second fastest time overall around Angel, completing the course in only one hour and eighteen minutes. Finally, Zachary Alva and Tiffany Cleveland were announced as the Regatta's fastest man and fastest woman–an honor given annually to the quickest time on the Golden Gate course.
As the years go by, each Regatta means something different than the last. Each brings new faces, purposes, goals, and impacts––new reasons to celebrate. As the sun sets on the 2022 event and we mark 40 years of Regattas, we are reminded of all of those that came before, helping to make the Bay Area paddling community as strong as it is today. We are grateful for the many who have contributed to ETC's Scholarship Fund through this event, making transformational outdoor experiences accessible to thousands of participants over the years. And finally, it would be remiss to not mention that more than a few, maybe even some who are reading this now, are already excited about what the future has in store––perhaps some are already gritting their teeth, preparing to outpace that boat that they just couldn't quite catch on Sunday. If you're not already, it's time to start paddling.
ETC would like to thank Sea Trek for their partnership and support—and congratulations on 40 years of adventure! Thanks as well to Lagunitas Brewing Company, Nugget Markets, Epic, Giant Fish, Stellar, OnTheWater360, and OnBoardSUP for their sponsorship of the event. To the ETC volunteers (in no particular order): Kirsten Scott, Erik Martinez, Angie Green, Bill Pollock, Lori Beraha, Mick Cooke, Russell Sprunger, Amy Yoger, Dave Patten, Brad Kekst, Mark Westwind, Candy Jelinski, Helen Head, Tracy, Russell, and Kai White, Elizabeth Feng, Monica Towers, Arianna Mendoza, Patty Quinlan and Jodie Darensbourg.
Click here for a complete list of the 40th Annual 2022 Regatta results.
Photo Credit: Daniel Kuzjak and Diane Poslosky